8 Fun Indoor Activities for Seniors (To Enjoy at Home)
With this guide, we'll share some INDOOR activities that you can do at home to stay active and have fun. These activities are great for seniors because they're not only fun, but also challenging, educational, and relaxing. Whether you live alone or with others, check out these activities.
Mental and physical activities are VITAL for people of any age. But keeping the body and mind engaged becomes essential as we grow older.
Staying active reduces age-related bone and muscle loss.
Challenging mental engagement helps keep the brain sharp. It lowers the RISK factors for some forms of age-related cognitive decline.
There are plenty of indoor activities seniors can enjoy at home. For example, you can:
play board games
watch movies
read books
listen to music
learn a new language
research your family tree
exercise
cook
start an indoor garden
help out a local charity
write the great American novel
get involved with social media with Pinterest
Here's a list of FUN activities to keep the body and the brain in tip-top shape.
1. Learn a New Language
Learning a new language will lower your risk factors for developing dementia, but it's also a lot of fun.
Many seniors may balk at being pulled out of their comfort zone.
However, studies show that learning a new language can improve your overall intelligence.
Learning a new language is a wonderful exercise for your brain. Just a new term every day would work as well.
Researchers believe that this may be due to increased brain involvement.
The prefrontal cortex is the part of the brain responsible for decision-making, among many other things.
Learning a new language helps:
Improve vocabulary
Increase your attention span
Increase the activity in the prefrontal cortex
Another bonus of learning a new language is increased confidence when traveling to those parts of the world.
With a sharp increase in language learning apps over the last several years, learning a new language is easier than ever before.
Language learning programs like Duolingo and Memrise are entirely free.
You can use Duolingo online, on an iPhone, or on an Android app.
Here are the links for Memrise: online, iPhone, and Android.
2. Genealogy Research
Researching your family tree is another excellent indoor activity for seniors involving the whole family.
You can help your family members understand who they are by creating or expanding your family tree.
Seeing the obstacles your ancestors faced can also provide a sense of pride.
Modern advances have made genealogy research more accessible than ever before.
Some valuable tools for hunting for information about your lineage include:
3. Get Physical
Because a healthy mind needs a healthy body, engaging in daily physical activity is crucial to remaining healthy.
Getting just 30 minutes of moderate exercise per day can have a beneficial impact on your overall health.
Your 30 minutes of exercise doesn't need to be consecutive, either. You can break it up into three ten-minute sessions.
For many seniors, mobility may be an issue.
Websites like SilverSneakers.com provide ways for anyone to get a full workout while seated in a sturdy chair.
They also offer free content directly through Youtube.com.
If joining an online group or class isn't your thing, walking may provide the physical outlet you've been seeking.
Walking indoors on a treadmill helps keep track of your progress. It allows you to see the calories burned and the healthy heart benefits right on the screen.
Read more: Sport Events for People Over 50
4. Discover Your Inner Chef
Baking is a great way to tap into your creativity and create something fabulous to engage all senses.
Baking and cooking at home have several benefits, such as:
Allowing you to make healthier meals and desserts
Giving you confidence in the ingredients
Promoting healthy dietary habits like salt and sugar reduction
Joining a virtual cooking or baking class allows some seniors to sharpen their culinary skills.
They can also work on meeting new people and forming critical social bonds.
Whether cooking at home or with a group, cooking lowers stress levels and promotes relaxation.
5. Start an Indoor Garden
Some activities are so flexible that they can take place practically anywhere, and gardening is one of those activities.
Starting an indoor herb, flower, or even vegetable garden is an excellent way for seniors to lower stress levels.
It also allows them to work on hand-eye coordination and fine motor skills.
Studies have shown that growing plants indoors improves mood and boosts your mental health.
A recent study showed an improved outcome and faster recovery for patients who recuperated near plants.
Planting an indoor flower garden will help beautify your indoor space.
Planting a vegetable or herb garden will provide delicious, nutritional ways to improve your diet inexpensively.
6. Consider Helping Out a Local Charity
Many local charities would love to have you onboard to help out with activities that you can complete at home.
You can select an area with a particular interest or use your unique skill set.
If you enjoy speaking with new people, charities may need people to make calls.
Perhaps a children's hospital or a hospice nearby would love to have some help knitting blankets or putting stuffed animals together.
Try to think outside the box and go with what you enjoy until you've worked up the confidence to try something new.
Read more: Have a wheelchair to donate? Give hope through the gift of a wheelchair.
7. Write the Great American Novel
Ok, so maybe the great American novel would be a bit of a stretch.
However, many people, seniors included, find that they ADORE the creative outlet offered by writing.
If this is a new hobby you are interested in cultivating, start small.
Just set a goal of getting your ideas down each day.
You'll be surprised at how quickly you have a complete collection of writings.
You can also start by jotting down memories from your childhood. Or, if you've developed some recipes through the years, maybe write a cookbook.
This step-by-step guide for new writers from Jericho Writers is a GREAT resource no matter your age
There is no wrong way to start writing. Just make a point to start.
8. Get Involved With Social Media
Social media can be an excellent way to stay in touch with family and close friends when meeting up in person is not possible.
Online sites provide ways to connect with others over shared interests and make new friends.
While on social media, many seniors find INSPIRATION for improving all aspects of life by starting a board through Pinterest.
By following people who share your interest, Pinterest will expose you to new ideas and new ways of doing things.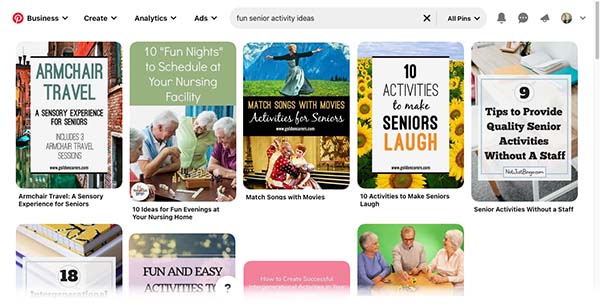 And you can use Pinterest to search for everything from inspiration to instructions to products (yes, Pinterest is a search engine).
Building your Pinterest board can be a relaxing and enriching experience.
Read more: What's better for seniors: laptops or tablets?
Wrap Up
Like a nice meal, these fun indoor activities are something to look forward to every day. They make you feel happy and relaxed, and they help you stay healthy as well.
By engaging in fun, mentally stimulating activities, you can reap many benefits.
It will provide an enriched life full of adventure and excitement for all seniors.