Sports Events for People Over 50: Competition and Fun (and Olympics!)
There are thousands of sporting events across the globe, and you can participate in a 5k run or charity event no matter your AGE. However, some sporting events are available especially for those OVER 50.
Senior sports events always have a fantastic ATMOSPHERE, and they are an excellent way to stay active throughout life.
You can mix your sport with fun, family, friends, and travel.
The pandemic has paralyzed sports worldwide and has forced many sporting events to be suspended.
It seems that optimism is beginning to grow, and there are many events for senior athletes planned for the coming year.
Everyone is looking forward to competing at their level in sports, but they also want to meet their friends again.
Here is a list of sports events to start you off if you're interested in competing at a senior age.
List of Senior Sport Events
Huntsman World Senior Games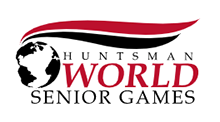 The Huntsman World Senior Games have been held for over 30 years and feature more than 20 sporting events.
Participants can be aged 50 and over, up to 100 years.
St. George, Utah, hosts the Huntsman Games annually. In 2022, the event takes place from October 3-15.
The event also includes concerts, dances, and social events for athletes, volunteers, and the community.
The idea behind the event is that healthy living and physical fitness should be a way of life in the golden years, not just an occasional hobby.
Mesquite Senior Games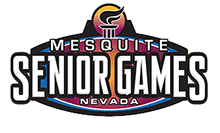 Mesquite Senior Games began as a softball tournament in 2001. Over time, other sports were added. With the Mesquite Senior Games, everyone can enjoy their favorite sport with others of the same age.
The goal of Mesquite Senior Games is to promote the health and fitness of anyone aged 50 and older and stimulate tourism in Mesquite, Nevada.
There are usually male and female divisions in five year age groups.
Sponsors, donations, and registration fees fund the non-profit organization Mesquite Senior Games. Games are put on by volunteers.
https://www.mesquiteseniorgames.org/
National Senior Games (the Senior Olympics)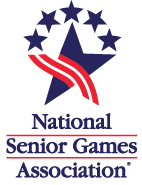 You might be wondering, is there an OLYMPICS for older adults? Yes, there is.
The National Senior Games – The Senior Olympics – are a sports competition for seniors in the USA.
The Games are open to men and women 50 and older. This is one of the largest multisport events for seniors.
These games are coordinated by the National Senior Games Association (NSGA).
Regional qualifying competitions are held annually. Every two years, a nationwide event is held (the National Senior Olympics). Competitors who meet specific criteria while competing in the regional games are eligible to participate.
There are 20 different sports categories like track & field, tennis, racquetball, cycling, and golf. It gathers over 10000 participants.
The NSGA's primary goal is to promote a healthy lifestyle to seniors through regular competitions.
The 2022 National Senior Games will occur in Fort Lauderdale, Florida, on May 10-23 (postponed from 2021).
The 2023 event will be July 7-18, 2023, in Pittsburgh, Pennsylvania.
USATF Masters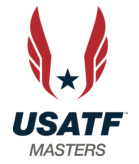 USA Track & Field (USATF) events are open to senior athletes competing in running and in track & field events.
There are athletes aged 35 and up, from beginners to world record holders. USATF offers events from the local to the international level.
There is no qualification for events, but USATF membership ($40 for a calendar year) is required.
The World Masters Athletics (WMA) Outdoor Championships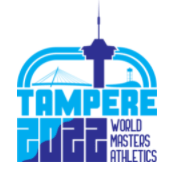 The World Masters Athletics will take place from June 29 to July 10, 2022, in Tampere, Finland. Athletes over 35 compete in this world championship-level track and field event.
There are no qualification standards for this competition, except that participants must be members of their national organizations.
World Masters Athletics (WMA) is the organization behind the event. It includes track and field, cross country, and road running events.
Since its inception in Toronto in 1975, the World Masters Athletics Championship has been held in many countries and locations around the world.
The MED Senior Games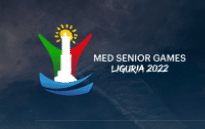 The MED Senior Games are open to participants from all over the world who meet the minimum age requirement.
The MED Senior Games is a multi-sport event held every 2 years. The Games are promoted by the International Sport Cooperation Group (I.S.CO.G), a non-profit association. The philosophy is to encourage the practice of sport at any age, with great health benefits.
These games are hosted among the 24 countries bordering the Mediterranean. You can participate where ever you live.
The Games are a sports festival with competitive levels between elite and sports club standards. No professional teams are allowed.
This event has been postponed due to the pandemic.
https://msgenova2022.it/en/home-page/
Asia Pacific Masters Games (APMG)
Asia-Pacific Masters Games (APMG) is hosted by the International Masters Games Association (IMGA). It is a multi-sport sports-for-all competition.
Participants must be at least 30 years old. Asia Pacific Masters Games host countries are limited to the Asia-Pacific region. Still, participants can come from anywhere in the world. Therefore, you can participate regardless of your nationality or location.
Track and field, swimming, and golf are among the 26 disciplines.
The 2023-event will take place in Jeonbuk, South Korea, from May 12 to May 20, 2023.
An estimated 13,000 athletes from 70 countries are expected to compete in 26 sports programs at APMG 2023 while enjoying the tourism and competition.
https://www.apmg2023.kr/?siteLangId=en
https://imga.ch/event/asia-pacific-masters-games-2023-south-korea/
Benefits of Sports Events for People Over 50
Senior Sports Events Help to Stay Active
Senior sports events, like the Senior Olympics, are great for keeping us YOUNG, which we all want. Sport is definitely one way to say to ourselves and everyone else, "here we are still alive and having fun."
Everyone gets into fitness for different reasons. Some of us have been active our entire lives, while others took up sports later.
Whatever your history, physical activity is essential in later life.
Different Levels of Competition
Over 50 sports competitions have different levels of contests.
Some events offer everyone over 50 the opportunity to be more than a spectator. Others are for more competitive athletes.
Competition is a Great Motivator
Competition is a great motivator, no matter what your age.
Healthy competition is a POWERFUL MOTIVATOR. Use competition to inspire yourself to exercise.
The motivation is evident through the number of workouts you perform during the year after committing to compete in a senior sports event.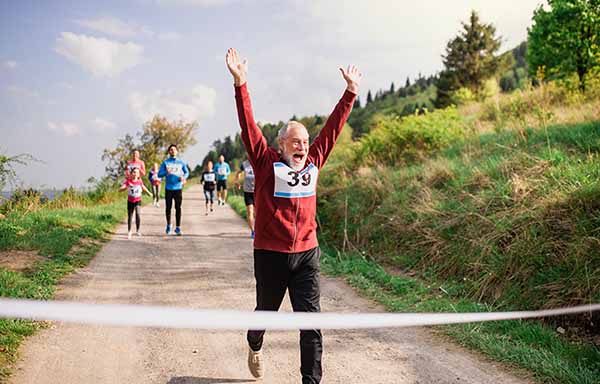 Getting Fit
As we mentioned, there are many highly competitive over 50 athletes, but there are also many beginners.
Get a physician's clearance before beginning a gradual buildup program if you are starting out.
Social Experience
Furthermore, many people participate in events for the social experience. They get to reconnect with friends while exploring a new city and having fun.
Other Activities in Senior Sport Events
If you are not participating in competitions, these are other activities to consider:
Participating as a volunteer
Whether you can compete or not, you can participate by volunteering.
Local communities and families help make the event a success.
Volunteers are not required to be participants. Everyone is welcome.
Many volunteers even decide to compete later.
Participate as a spectator
Even if you're not ready to participate, you can attend and watch any of the above events as a spectator.
There are many regional competitions hosted by USATF. Many of them are indoors.
Opportunity to Travel and Meet With Family
Many organizations hold local, regional, national, and international travel events.
Sports are an excellent excuse for a second vacation if you enjoy traveling.
You can go sightseeing a bit more after the event.
Engage your family and friends to go with you.
While you prepare for your event, the rest of the family can see some local sights.
The Bottom Line
Taking part in senior events is one way to improve your health and maintain lifelong fitness.
Find out more about the possibilities today. And maybe you can realize your dream of being on the podium.