Walking Cane Accessories That You Can Use Today
With walking cane accessories, you can complete, upgrade, or enhance your walking cane. Whether you just made a purchase or want to add to your trusty cane, you can find a selection of accessories here.
Walking cane accessories either improve the cane itself or act as additions to make using the device a little easier. Accessories include wrist straps, clutch bags, different tips, lights, and storage bags.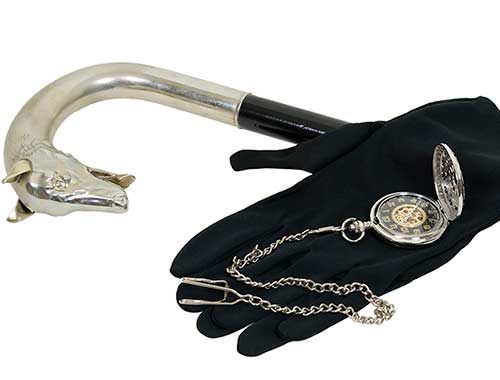 Here are a few of the alterations or add-ons that you may want to consider:
1) Wrist Strap
Most wooden walking canes and aluminum walking devices come equipped with a wrist strap.
If yours doesn't, you should definitely get one. This can help make sure that even if your grip slips, you will still be able to hold onto your walking stick.
This way, you will not have to worry about the cane falling over while you are using it.
2) Clutch Bag
When one of your hands is already busy with the walking device, it can be quite difficult to carry items with you. Also, if you experience certain weaknesses in your arms, it can prove to be tiresome for you.
This is why a clutch bag makes perfect sense in this instance.
You will be able to fix it around your cane with the help of Velcro straps. You can fit in all of your important possessions such as your keys, phones, medication, or identification. This will free you up from having to carry any other bags with you.
3) Different Tips
Most walking canes have rubber tips. However, these can easily be removed and replaced with others. Here you can find out how to measure cane tip size if you don't know the correct size.
Now there are many different types of tips available. You can use ones that have been designed to walk through the icy terrain.
Or, you can get uniquely shaped tips that you can use with an outdoor walking cane when you walk across grass and gravel where a single point might prove to be cumbersome.
4) Attachable Light
Sometimes, you may need to move around dimly lit areas. If you do not have adequate amounts of light to illuminate the way, you are actually increasing the possibility of an accident.
Instead of carrying around a torch, you should simply get a small light that can be attached to your device.
Then, when you need it, you will just have to turn it on to see where you are going. This also saves you the trouble of having to hold onto a torch and your walking cane.
5) Cane Storage Bag
Do you have a foldable cane that can be collapsed when you no longer need it? It is certainly a very useful type of assistive device to have.
Of course, once it is folded, you will then need to figure out what you need to do with it.
This is where cane bags come to the rescue.
They are small and stylish bags that can be closed up. You simply place the cane in the bag and seal it up.
These are some really fun, not to mention useful walking cane accessories that you can use to take your walking device experience to the next level.