Deciding On An Outdoors Walking Cane
One of the perks of using a walking cane is that you are able to move around a lot more easily. This means that if you have been putting off that hike because you were afraid of falling, you have no more concerns.
For the most part, your outdoors walking cane should have many of the features that an indoor cane does.
However, this particular type of cane must be able to withstand a few more challenges than most walking canes.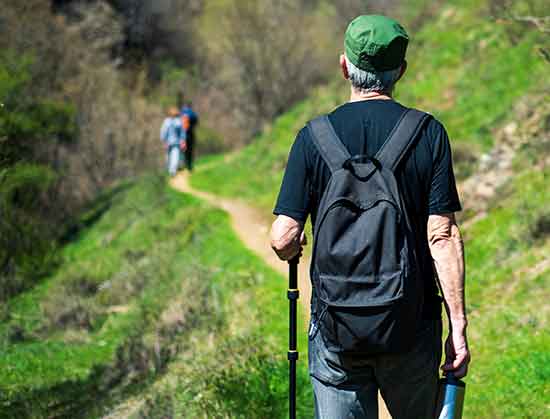 To ensure that you will be safe if you are headed to uneven terrain, it is important to have the best walking canes for hiking.
Here are some tips for making the right choice:
Dynamo Prime Stick
Dynamo Prime Stick is a lightweight walking cane for all-terrain and weather.
The handle is vertical, and it doesn't look like a typical cane. It is more like a hiking stick than a cane.
It has a large enough footprint to prevent sinking into loose earth.
Vertical holds are better suited for hiking than for everyday use. As the upright position relies on the wrist for support and control, it might become tiring.
---
Dynamo Swing Cane
Dynamo Swing Cane is a versatile walking cane for varied terrain.
The large handle helps with support. On uneven terrain, the swing foot provides excellent stability.
Some people may find the foot swing and bend design challenging to adjust to.
---
Evealyn Walking Cane
Evealyn Walking Cane is a foldable walking cane. It's easy to carry and easy to put in your backpack as a portable option.
It's great for someone who needs moderate assistance.
Its lightweight and foldable design might not be sturdy enough for larger people or longer hikes.
---
Choose Specific Hiking Sticks
You may decide that you want a hiking stick instead of a walking cane to help you get around in the outdoors. Canes and hiking sticks do have a great deal in common.
After all, they are largely meant for similar purposes. However, you should be attentive to any special requirements that you may have before deciding on a hiking stick.
For example, do you find it difficult to walk with a hiking stick for a long period of time?
Perhaps you begin to feel an ache in your hand or your wrist. This is often an indicator of a weakness in the wrists. If this is something that you have experience with, you may be aware that the traditional hiking stick grips will not be suitable.
Therefore, you should look for one that has a handle that is the same as your walking cane. It should preferably be an ergonomic grip.
Examine the Base
Depending on why you require an assistive device, you may either use a single-point base or a quad base cane.
If your regular walking cane has a single-point base, the same base should be adequate for when you head outdoors. You should keep in mind, however, that on rough terrain, you may require more support than usual.
Oftentimes, a quad base cane can come in quite handy, although the ones with the smaller base are better suited to outdoor excursions.
One of the unique features of some of the small base quad canes is that they are able to pivot.
This can often make it much easier to get around on uneven ground. This feature can also prove to be especially useful if you are attempting to hike uphill.
Most rubber tips can easily be removed from walking canes and replaced. This is particularly true for single-point-based walking canes.
There are certain types of rubber tips that actually contain tiny protrusions. These can be extended to add additional grip to the walking cane.
These types of rubber tips are meant for icy weather and help to increase the stability offered by walking canes.
Choose an Adaptable Walking Stick
Depending on how much support you really need, you may not need your walking stick at all times.
Therefore, it could prove to be useful to have a fold-up walking cane.
This way, when you don't need it, it will collapse, making it easier for you to travel with it and carry it around.
It's important to ensure that despite its ability to be folded, it is still quite sturdy.
Another handy accessory to have is a little link or wrist strap that is attached to the walking cane.
When you are walking on uneven ground, there is a greater propensity to slip and fall. Having a wrist strap that you can secure will help to reduce this possibility.
These are the most important things to consider if you are going to be looking for a walking stick that will help you to hike around outside.