Tips for Traveling With a Cane: All You Need to Know
If you have only recently begun using a walking cane, you might be wondering how to TRAVEL with a cane.
There are so many security regulations that it can often be quite confusing about what you can take on a plane when traveling with a cane.
Read through the requirements to ensure that your item can be taken on your flight before you leave for the airport.
Can You Bring a Cane On a Plane?
YES, you can take your walking cane, wooden or metal, on an airplane if you need it for mobility and assistance.
The Transportation Security Administration (TSA) has special procedures for people who use assistive devices.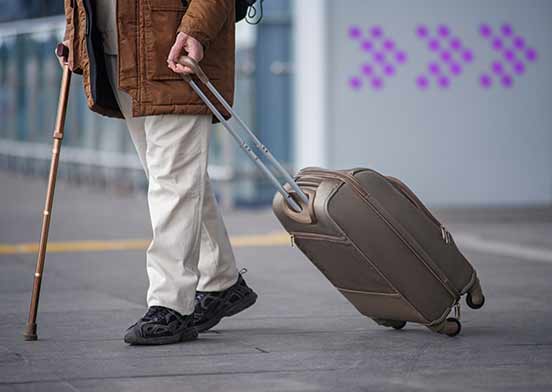 Read on to learn all about the finer points of traveling with a cane.
Try a Foldable Cane
To make sure that you get through airport security quickly, and to ensure that the item fits on the plane, you can use a foldable cane.
This way, when you have to hand over your device, you can simply fold it up, allowing it to be handled more easily.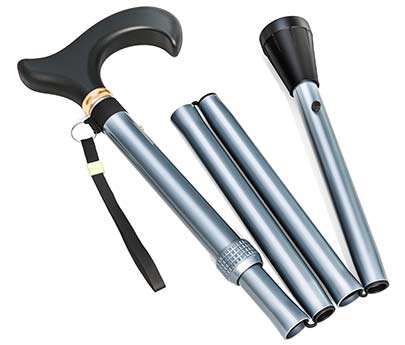 Another option when traveling with a cane is to get a foldable walking cane with a seat. Airports typically mean long lines and a lot of hanging around.
If your legs are not very strong or if you have a particular injury, you may need to rest. Then, you can just sit down on the seat of a cane until you need to move again.
Security Measures at Airports
As a walking cane is an assistive device, you can take it aboard an aircraft.
This means that until you sit down on the plane, you will have your walking device with you. Due to the security measures in place, however, you may have to be parted with it at times.
For instance, it will have to be placed in the x-ray machine to be examined by airport security.
If you have difficulties standing upright without any assistance, you should inform a member of the security team. They will be able to guide you until you are given your device back.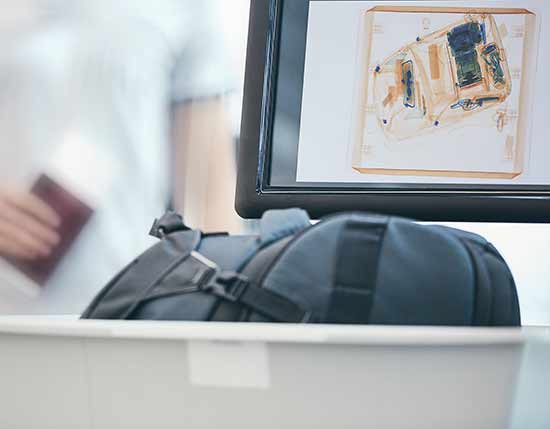 It is always a good idea to check beforehand regarding what policies that particular airport might have in place. By doing this, you will be able to avoid confusion, unpleasantness, or delays.
It may be helpful to carry along any medical documents you may have concerning your physical condition.
During the Flight
You will need to hand over your walking cane once you have been seated. The flight attendant will STORE it for you in a designated area.
Once the plane has touched down at the destination, the cane will be returned to you.
If you are not allowed to keep your device with you, you should remember to ask for it before getting up to walk around.
Travel folding canes are usually so COMPACT that they can fit into a carry-on bag or a large purse, so it's possible to store them beneath the passenger seat or into the overhead pin.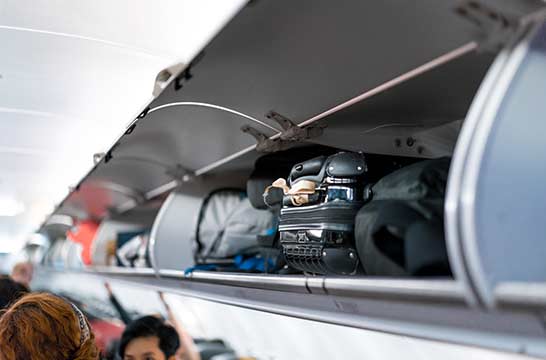 If you are given permission to keep the device with you, it's good to ask the flight attendant about the best way to store it.
As you are surrounded by other passengers in rather cramped conditions, your device may get in the way.
If you need any assistance at all either in the airport or on the plane when traveling with a mobility device, it is imperative that you ask for it. This way, you will avoid doing any harm to yourself or others.
Questions And Answers
Are Metal Canes Allowed on Planes?
Yes. You may bring a METAL cane for assistance and mobility if it is a regular cane or walking stick and not a "tactical" cane that might be used as a weapon.
Inform the TSA officer that you need a cane as a mobility device. A metal cane may be subject to additional screening.
What matters is that you need your cane as a mobility device. The material doesn't matter. If you don't need a cane to help you walk, you can't take it to a cabin.
The Bottom Line
As the population ages, SENIOR TRAVEL is on the rise. However, traveling today can be challenging. Here are our 12 tips for traveling with an elderly family member.
Here you can find tips for traveling with a walker on a plane.
You find more about the best walking canes for different situations here.
I hope you find these tips useful and that they save you time when traveling with a cane.