Tips for Choosing a Bariatric Cane
As you age, you tend to gain weight, so you need a cane that supports your mobility regardless of your size.
Choosing a bariatric cane is actually a lot easier than you might think. All you really have to do is make sure that the assistive device fits particular requirements.
As long as the cane will prove to be useful to you, you should have no trouble at all, finding what you want.
Here are some pointers to help you get started:
1) Standard vs Bariatric Cane
Of course, your first option to look for should be bariatric-specific canes.
The standard cane may not be sufficient for you if you weigh over 300 pounds and need a lot of support. Consider heavy-duty bariatric models since they are more supportive and can hold more weight.
However, it is important to know whether or not the bariatric label has been appropriately applied to that particular device.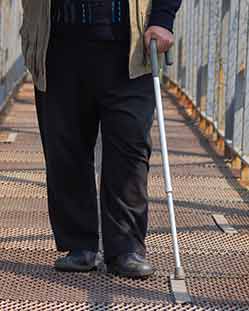 Read the points below to get a better idea of what a bariatric device should consist of.
2) Material
Bariatric canes are usually made of durable materials so that a cane can hold weights of up to 500 pounds.
Now, there is a reason that aluminum tends to be favored in mobility devices:
It's durable, so it is capable of supporting your weight.
It's lightweight, so it is easy to handle.
Steel is actually tougher than aluminum and can withstand greater weights, but at the same time, it is heavier. As such, it is a less preferred material for assistive devices.
Additionally, carbon fiber and wood are popular materials for bariatric mobility support.
3) Weight Capacity
This is the point that you should pay particular attention to when reading any of the specifications about a walking cane.
In most instances, standard canes can support 250 to 300 pounds in weight.
Heavy-duty models are capable of withstanding about 500 pounds of weight.
There are also specialized walking canes that can hold about 700 pounds.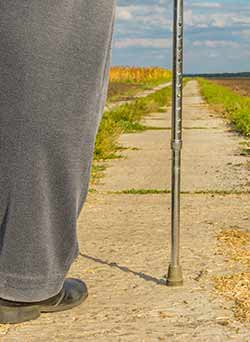 It is important to ensure that the walking cane in question really is able to support you.
Remember that the amount of force you put on a cane is not directly linked to your weight. It depends on your physical condition.
A 350-pound person with light stability problems does not put as much weight on a cane as a 300-pound person who needs a lot of support.
Just because a walking device claims to be bariatric does not mean that it is suitable for you.
4) The Base
A bariatric cane can have a single tip, or it can be a tripod or quad cane.
The best possible way to get support is by opting for a quad cane. This is a device that ends in four points. This ensures that you are given a greater amount of stability when you are walking.
There are two distinct types of quad canes:
large base and
small base quad cane
Most people assume that large base quad canes are better for bariatric patients due to the extra support. Yes, you get more support, but they are also more cumbersome. Certain types of movements may be hindered by a large base.
For instance, if you have stairs, the large quad base would be inconvenient. A smaller base, however, would work quite well.
To make certain that you are prepared for all types of scenarios, you may want to be equipped with both types.
5) The Handle
You can choose between different handles to suit your desired level of comfort and support.
The two most popular options for handles are the offset handle and the derby handle.
With an offset handle, your weight is evenly distributed along the shaft of your big and tall cane.
The Bottom Line
Our recommendations for heavy-duty needs are:
Whether you are looking for a specialized bariatric cane or trying to decide from other types, you can find our guide of best walking canes here. You should be able to find everything that you need.