Mistakes to Avoid When Purchasing a Walking Cane
Sadly, most people think that all walking canes are created equal, so it doesn't matter which one they purchase. However, this is far from the truth.
Walking canes differ in terms of quality, design, handle, tip, and many other elements. So avoid making the wrong decision when buying a walking cane.
Here are the most common errors to avoid:
Getting the Wrong Type
There are several types of walking canes and they are each specific to a particular need or condition.
Take, for instance, the standard crook cane.
This one tends to be the one that is more commonly used. This is good for individuals who require only minimal amounts of support, like those who are recovering from minor surgery.
However, if you are looking for a cane that offers much more support, you will be better off with a quad cane. Due to its four-point base, you will be able to derive a great deal more stability from this design.
If you are prone to wrist problems, then an orthopedic grip cane or an offset cane to be of greater use to you.
Since there is a lot to choose from, it can be difficult to make a decision. It is a good idea to get your physician's opinion to avoid choosing the wrong design.
Getting a Cane That Is Too Long or Too Short
Prior to getting a cane, you should be measured, as the height of a cane is extremely important for comfort and support. You should measure the distance from the ground to your hand when your arm is at a fifteen-degree angle.
Some canes have adjustable rods and therefore, you will not need to be measured. You can simply adjust the cane to fit your height.
However, if you want a wooden cane or one that cannot be adjusted, you should definitely take the right measurements. At the very least, hold the preferred cane in your hand. With the tip on the ground, your arm should be slightly bent forward, from the elbow onwards.
Only with the right length will you be able to get the support that you require.
Using a Poor Quality Tip
Take a moment to turn your cane upside down. Hopefully, you haven't lost that rubber tip.
Check the rubber tip's condition: is there any visible wear? Is the rubber still tacky enough to give you a good grip on the floor?
What most people forget is that this is one of the most important parts of a cane.
This piece is not just there to act as a sound-proofing component. It is also the part that prevents you from slipping and sliding across the floor.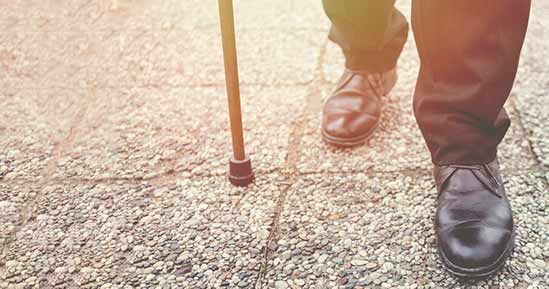 Therefore, you should make sure that the rubber is of good quality and that the pattern is adequate for creating enough friction.
You should also remember to frequently check and replace the end of your cane to keep it in good, working condition. Even if you don't know the exact size, you can easily measure the cane tip size yourself.
As there are many walking cane accessories on the market, you can easily find a replacement tip.
Not Getting a Medically Appropriate One
There are many walking canes available, but some fashionable canes are simply for aesthetics. In other words, they are not necessarily designed to provide you with balance or support.
Whenever you are trying to overcome a medical condition or gain greater stability, you should consult a medical expert. Choosing the most supportive cane may not always align with your taste or style, but they will help you move around more safely.
The Bottom Line
These are the most common mistakes that people make when buying a walking cane. Make sure to avoid them to have a much better chance of getting the best cane for yourself.