A Guide to Buying Custom Canes
Each person is uniquely different that often trying to buy items that have been mass-produced can be a misstep. The same can be said of walking canes.
Many of the canes on the market are incredibly useful and user-friendly. However, if you are looking for something that will help you stand out or to suit your particular body type, you will require custom canes.
This means that one or more aspects of the walking canes have been created to suit a particular element of you.
Having a personalized cane can also help overcome some of the concerns you may have with using a walking cane.
It may improve your confidence about the whole affair and may even help you to feel excited about the prospect of walking around with a cane.
You should be aware, however, that these tailored walking canes are typically best suited to those with no particular medical conditions.
If your physician has advised using a walking cane to help with an ailment or to heal from surgery, you should stick with certified canes. These will have been created to specifications that will aid with some form of disability or injury.
It is always best to inquire with your physician about the type of cane that you should use.
If you are looking to buy customized walking canes, however, here are a few of your options: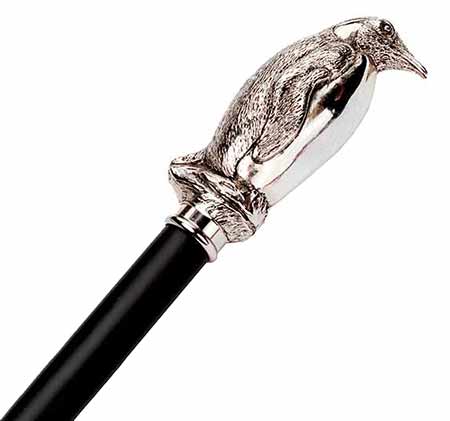 The Material
Aluminum – For most medical-grade walking canes, the material that has been used is aluminum or some alloy material.
This is because are quite sturdy, ensuring that they take an incredible amount of stress and use.
These types of materials are also quite durable, making them ideal for everyday use.
The aluminum versions are also incredibly light, making these canes easy to carry around, particularly for those with less strength.
Nonetheless, they do tend to lack that classic look and feel of more traditional walking canes.
Wood – In the stead of these metallic materials, the other most common component is wood.
However, the woods need to be capable of similar feats as the aluminum.
For instance, it must be tough and sturdy, capable of supporting body weight. This is why some of the wood that is usually chosen for such a circumstance includes ash wood, oak wood, and cherry wood.
These are rather durable and will provide admirable stability. Some other selections include maple wood, beechwood, walnut wood, and cocobolo wood.
You should be warned that these will not prove to be quite as weatherproof as the aluminum, nonetheless.
You can, however, choose to cover the shaft with a clear protective coat. This will help to protect it at least a little, from use and various weather conditions.
With the exception of sturdiness, the other factor for choosing the best type of wood is the aesthetic appeal.
Depending on the effect that you want, you can choose between the different grains, patterns, and hues of the material.
The Handle
The handle is the part of the cane that most people choose to modify.
Remember, however, that this option is best left to those who have adequate amounts of wrist and hand strength. If not, the handles could end up causing an injury.
Here, too, you can choose different types of materials for the handle.
If you are looking for comfort, you get to select from cushioned or gel grips.
If you are looking for style, however, the options are wood, chrome-plated, nickel-plated, brass-plated, faux ivory, and even imitation stone.
You can even choose from several acrylic designs as well.
One of the most common ways to alter the handles is to get beautifully carvings done. This can be of majestic animals, distinctive patterns, and various other engravings.
You can often personalize these designs down to the last detail. If you are looking for a walking stick that is predominantly for utilitarian purposes, then the handle will most likely be flat or curved like a crook.
If you do not require too much wrist support, a cane can even be topped off with a knob. You should be warned that knob handles can get a little uncomfortable after a while, however.
The Base
Now, the base must be made of rubber, especially if you are going to be using your custom cane on a variety of surfaces.
This base will help you to get a better grip on the floor and will lessen the chances of you slipping and falling. Therefore, this is not something that you can compromise on.
Still, there are some options that you can still choose from. For instance, you can opt for the more common rubber base, which simply consists of a marked rubber tip. This is fine for everyday, indoor use.
If you are more of an outdoor person or enjoy hiking uphill, you may want to think about a pivoting base. This will make your movements and progress a lot easier.
If you have a particular injury or weakness, you may require just a little bit more support from your cane base. Here, a quad base will prove to be quite handy, allowing for greater stability.
If you live in an area that is prone to snow and ice when the weather changes, you should be considering custom cane tips. There are tips that come with little adjustable spikes that make walking through icy terrain that much easier.
There are many different types of customized features to choosing from choosing a walking cane.
It is important that you ensure that each of these elements still helps you accomplish your main goal – improve your walking ability. As long as your walking cane is stable, tough, and safe, you can tailor it as you please.
References: Where to buy walking sticks and canes online